DAVIS, WV (LOOTPRESS) – Almost Heaven Miniature Golf is proud to announce the first Mini Golf Open Tournament! Join us on Saturday, June 24 and Sunday, June 25, for a weekend of fun and friendly competition. Whether you're a die-hard mini golf enthusiast or an amateur just starting to play, this tournament is open to all ages and abilities.
The tournament is set up as shotgun style, individual stroke play. On Saturday, players will have the opportunity to play 36-holes to see which individuals move to the championship round on Sunday. Only 36 players proceed. Players of all skill levels are invited to compete for prizes in this one-of-a-kind event. The course itself features a variety of obstacles from water fountains, tunnels, and bridges to ramps and curves.  For those hoping to watch the action from afar, spectators are welcome free of charge.
The tournament promises to be an eventful weekend full of excitement. "We're really excited about our first Mini Golf Open Tournament," says General Manager, Danyelle Conley. "It's a great opportunity for individuals from all over to come out and have some fun while also enjoying our beautiful course."
"We are so excited to host this inaugural tournament," said Greg Krepps, Director of Hospitality of Taylor Hospitality, management company of The Inn at Canaan and Almost Heaven Mini Golf. "Our goal is to provide a fun and competitive atmosphere where players can show off their skills. Whether you're an amateur or a professional, we want you to come out and have a great time."
The tournament will kick off Saturday at 9:00 a.m. with registration beginning at 8:00 a.m. Players interested in participating are encouraged to register early by calling the Inn at Canaan at 304-866-4166 or visiting www.theinnatcanaan.com. There is a $30 entry fee per player.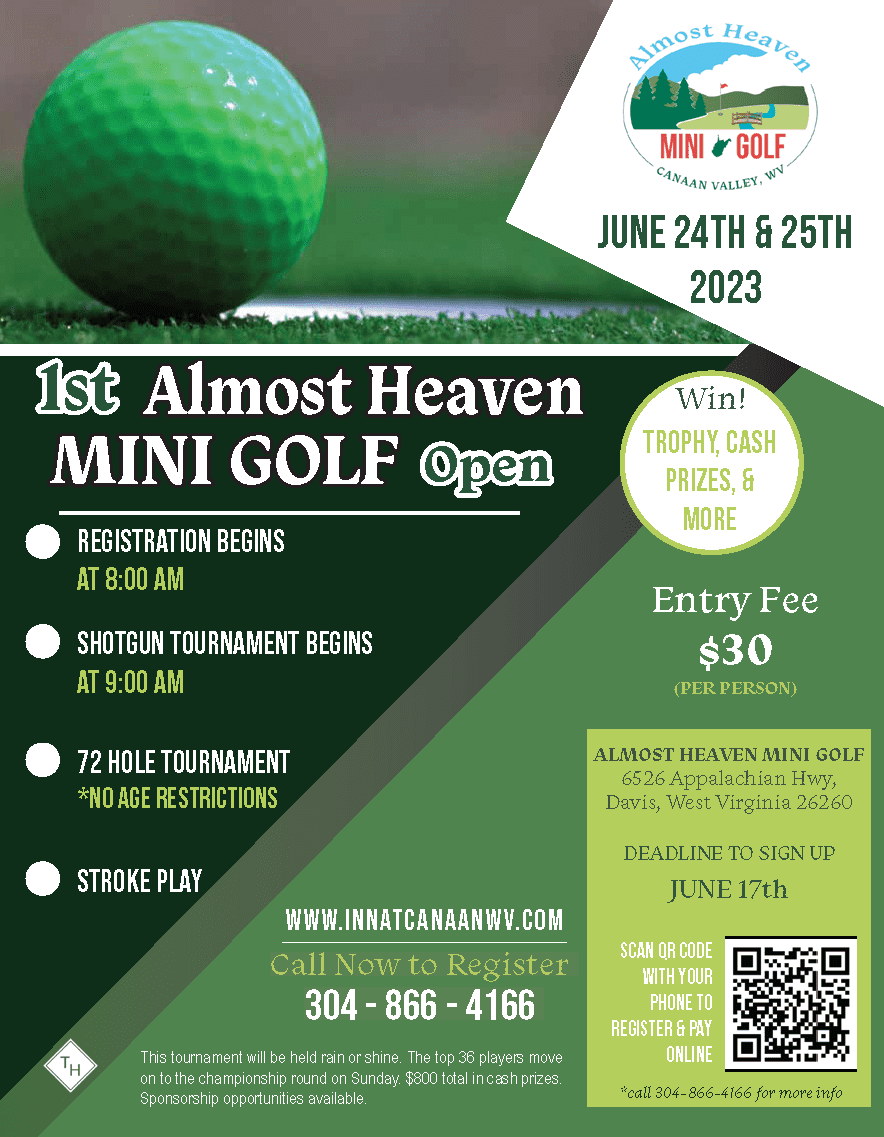 So mark your calendar and come join us, rain or shine, for a weekend of fun, competition, and of course, miniature golf! Almost Heaven Mini Golf also offers opportunities to host your next fundraising event or birthday party. In addition, membership passes are available for the remainder of the year and are priced at $59.95 for adults and $35.95 for children ages twelve and under.