Chick-fil-A® is welcoming back two menu favorites that have become beloved holiday food traditions for guests: the Peppermint Chip Milkshake and Chicken Tortilla Soup. These seasonal items will be available nationwide* starting Nov. 14, while supplies last.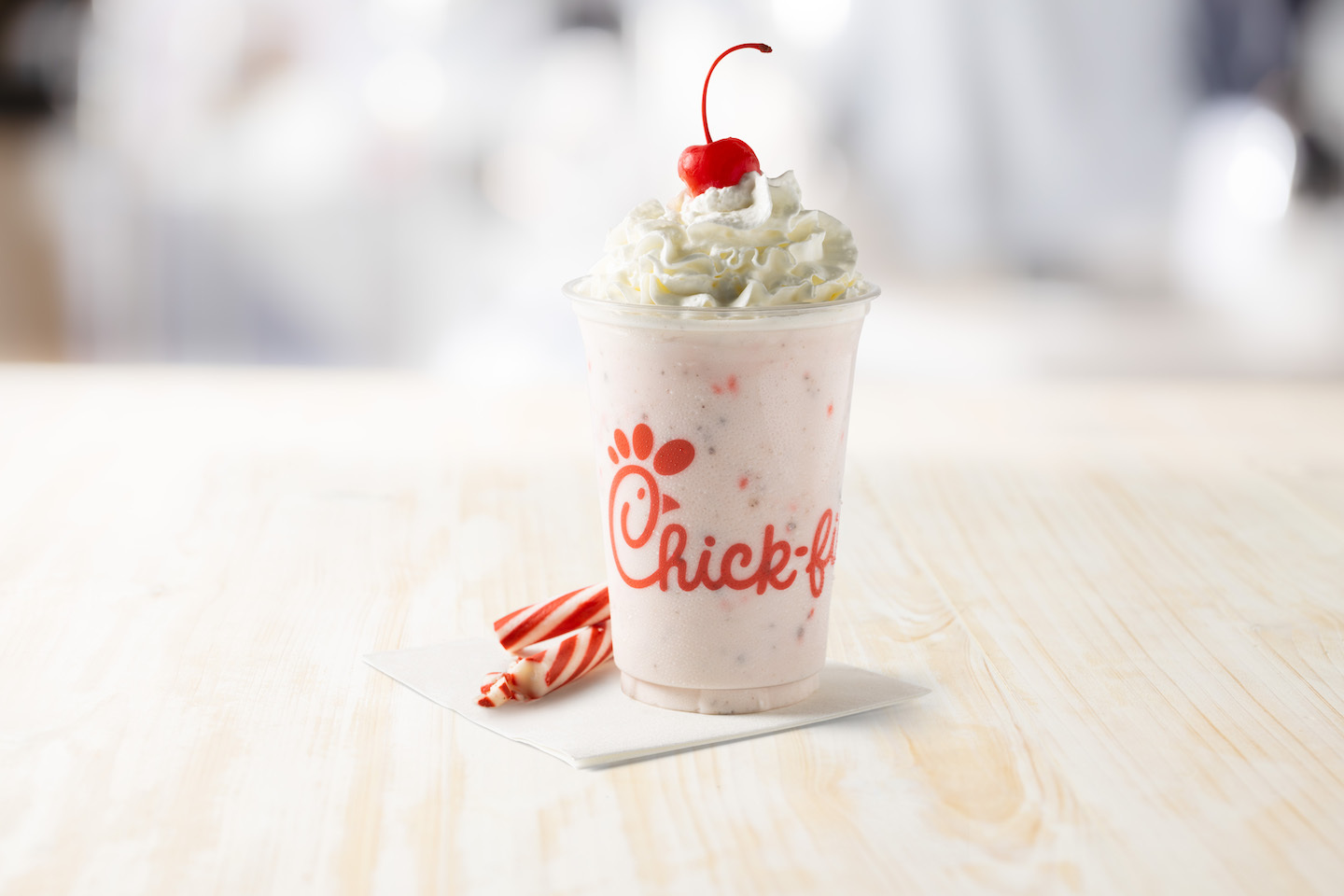 Like the holiday season in a cup
The Peppermint Chip Milkshake puts a twist on a classic, seasonal flavor, with hand-spun
Chick-fil-A Icedream® dessert and chips of peppermint bark topped off with whipped cream and a cherry.
Peppermint Chip Milkshake

First introduced to customers in 2008, the Peppermint Chip Milkshake has grown into an iconic holiday treat. The seasonal milkshake is frequently requested to return to menus. In fact, more Peppermint Chip Milkshakes were ordered in 2021 than any previous year.
"As one of our most popular seasonal items, we're always excited to bring back the Peppermint Chip Milkshake to our menus. We know that it's a part of our customers' holiday traditions. Whether it's enjoyed on its own or used as part of a recipe like our Peppermint Milkshake Pie, we hope this special treat is a great start to the holiday season," says Leslie Neslage, Director Of Menu & Packaging At Chick-fil-A.
The Chick-fil-A Peppermint Chip Milkshake combines the classic holiday flavor of peppermint bark with its hand-spun Icedream® dessert to create a unique treat.
Chicken Tortilla Soup

Initially on the menu at S. Truett Cathy's original dine-in restaurant in Hapeville, Ga., the Chicken Tortilla Soup made its way to Chick-fil-A menus nationwide in 2012 as a warm, delicious dish.
"Our Chicken Tortilla Soup is comforting and hearty and gives guests a taste of home with each bite," Neslage says. "Many do not realize we use both our spicy and original chicken in the recipe, which gives the soup a subtle kick. Returning customers look forward to its return each year, and I encourage newcomers to try it this season."
Cozy with a crunch
The Chicken Tortilla Soup warms up a chilly day. Available in a cup or bowl, it features shredded chicken breast and beans in a white creamy soup base with a blend of vegetables and spices all topped off with seasoned corn and tortilla strips.
Available for dine-in, pick up or delivery, guests can check the Chick-fil-A® App, online or contact their local restaurant to find out if the Peppermint Chip Milkshake and Chicken Tortilla Soup are served at a nearby participating location. When joining the Chick-fil-A One® tiered membership program, guests receive points on every qualifying purchase which can be used to redeem available rewards.
To learn more about Chick-fil-A's limited-time winter menu from Chick-fil-A, or to read stories about the company's people and guests, visit chick-fil-a.com/stories.
*Available at participating restaurants nationwide. Whipped cream and cherry toppings are not offered on milkshakes with delivery orders.