WEST VIRGINIA (LOOTPRESS) – West Virginia coal production declined (predictably) last week with the Thanksgiving holiday.  Week over week, state production declined by -5.8%, -6.6% in the NAPP region and -5% in the CAPP region of the state.  Compared to Thanksgiving week 2019, state production from the NAPP region is down -16%  and CAPP production is off -13.6%.   Total U.S. production also declined week over week by -5.6%.  Compared to the same week last year, U.S. coal production is off by -11%.
EIA reports no changes in either thermal coal or natural gas prices from the previous week.
U.S. iron and steel production decreased from the previous week by -1.3% with furnace capacity utilization going down by -1.2%.
National electric generation declined week over week by -1.9%.  Output from the Northeast, Mid-Atlantic and Southeast regions decreased by 4.6% and generation in the Central Industrial region declined by 1.7%.
U.S. rail traffic also declined over the holiday week by -15% (but is +3.7% higher than Thanksgiving week 2019).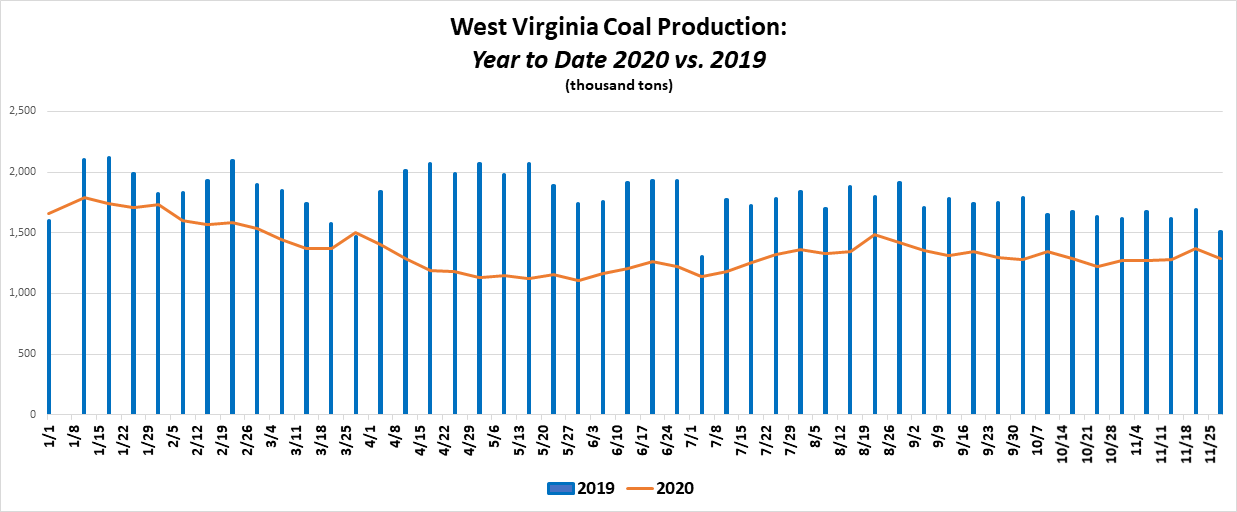 West Virginia & Regional  Coal Production
Year to Date 2019 vs. 2020
 (thru week ending November 28 )
State / Region
2019
2020
% +/-
W.Va. NAPP
43,312,000
31,618,000
-27.00%
W.Va. CAPP
42,984,000
29,836,000
-30.40%
W.Va. Total
86,206,000
61,454,000
-28.70%
Alabama
13,103,000
10,846,000
-17.20%
Illinois
42,764,000
28,838,000
-32.60%
Indiana
29,151,000
18,996,000
-34.80%
Kentucky
33,496,000
21,383,000
-36.20%
Maryland
1,351,000
1,102,000
-18.40%
Ohio
7,220,000
3,839,000
-46.80%
Pennsylvania
45,801,000
33,661,000
-26.50%
Tennessee
398,000
292,000
-26.50%
Virginia
11,502,000
9,321,000
-19.00%
Wyoming
253,494,000
199,074,000
-21.50%
Appalachia
178,506,000
127,996,000
-28.30%
Interior
118,270,000
81,971,000
-30.00%
Western
353,036,000
279,299,000
-20.90%
U.S. Total
649,812,000
489,266,000
-24.70%
Car Loads
3,684,311
2,742,000
-25.60%