New Richmond – While much of the talk Monday was about the stars seen in the latest James Webb Space Telescope picture, a group of about 30 grade school girls were more concerned with the ones occupying New Richmond that morning.
Assembled in the Wyoming East High School gym as the Lady Warriors hosted their inaugural basketball camp, several of the state's top basketball players from the last decade – all graduates of Wyoming East – were instructing the youth of Wyoming County.
It was surreal to behold.
Rotating from station to station, the students in attendance had the chance to learn from Jazz Blankenship (a 2017 and 2019 first-team all-state selection and starter at Concord University) before moving to a station manned by current Wyoming East players Alivia Monroe and Maddie Clark (2022 first-team all-state). The next stop was a passing station led by 2018 grad Gabby Lupardus (2015, '16 and '18 first-team all-stater and 2018 state player of the year winner). The next stop was led by 2021 grad Skylar Davidson (2020 and 2021 first-team all-state and 2022 NCAA D2 National Champion). Lastly was a station led by Davidson's classmate Sarah Saunders (2021 state champion, honorable mention and 2022 National Champion).
Many in attendance may be too young to understand the gravity of the situation at this point but as time moves on they'll likely appreciate what they were a part of. In all there were 10 players from the 2016 and 2021 state championship teams combined – with two more joining the fray on Tuesday – giving back and seemingly enjoying their time doing so.
In a county with declining population it's important for each generation to continuously inspire the next. Lupardus, Blankenship and Davidson were the same age, if not younger, than many of the kids they were instructing when they first started playing together in the AAU ranks for the now defunct Xpress team.
They traveled all over the east coast, gaining experience in hopes of competing for state championships. They did just that as in addition to winning titles in '16 and '21, the Lady Warriors finished runners-up in '18, '19 and '22. It wouldn't be a stretch to say that those three are amongst the top five female basketball players the county has ever produced.
Lupardus is only the second basketball player in the history of the county to win the state player of the year (Herbie Brooks won on the boys side in 1984); Blankenship is the program's all-time leading scorer with over 1,600 career points and Davidson is only the fourth basketball player in school history (Gentry Shrewsbury '09, Evan Muscari '10 and Lupardus '16 and '18) to earn first-team all-state captainship honors ('21) in addition to becoming the first Wyoming County native to play in and win an NCAA National Championship in basketball, doing so as a freshman at Glenville St. this past spring.
After the 2016 team won the state championship, many of the players who were a part of the '21 title team vividly recalled following the bus back from Charleston that evening as a celebration was held. There's almost no doubt that several of the campers in attendance this week did the same thing for the 2021 team.
Even amongst current players there was an opportunity to realize a dream.
East head coach Angie Boninsegna recalled stories her current point guard, rising sophomore Cadee Blackburn, disclosed in regards to how she fell in love with the game. Blackburn noted that before she reached middle school, her grandpa would take her to watch Lupardus play during the start of East's run. Hearing that, Boninsegna paired Blackburn and Lupardus as camp instructors.
Blackburn isn't an exception amongst the current group of Lady Warriors.
Most of them had the opportunity to play alongside Davidson as she led the 2021 team to a title and were inspired by what they witnessed each day. That inspiration grew as they followed her journey through the NCAA Tournament with some of them making the trip to watch her when Glenville St. won its Sweet 16 game at home.
It was a testament to what most players say when they come through the program, citing the family atmosphere that follows them after graduation.
That was highlighted when Davidson and Jazz Blankenship matched up on Jan. 22 when Concord hosted Glenville. Boninsegna believed it was the first time she had seen two of her former players play against each other at the next level and as such she brought several of her current players with her to watch the game. Even though the two were foes, they were still sisters and former teammates, helping each other navigate that world.
"Just seeing a former teammate was a lot of fun especially in a game," Davidson said after the game. "She gave me a high five at the beginning of the game and it brought a lot of people up from Wyoming County and I thought that was pretty cool – just playing in front of the fans that we had in high school."
"It's just a great thing being from Wyoming County because you know people are going to follow you throughout your whole career. I feel like that's the biggest thing about Wyoming County, especially Wyoming East. We have always followed each other, even Emily (Saunders) on the D1 level we watch her games online. We keep up with each other and it's just a family thing."
Blankenship, who's two years ahead of Davidson and served on the support staff during the '21 title run shared those feelings, elaborating on some of the advice she imparted outside of basketball.
"It was nice to see her but it was also nice to have Wyoming East here for us both," Blankenship said after that matchup. "It was a home crowd and it was nice having her out there with me even though she was on the other team. She asked a couple questions when she was going through recruitment and she reached out and I told her I'm always here if she has any questions. Every now and then I'll text her and check in and make sure she's eating.
"When I came in it was hard to balance things like class and when to eat with practice so I was telling her to make sure she packs a sandwich with her or something to have on the go. It's like we always say, the Wyoming East program is more than a program, it's a family. Even after you're graduated and gone, you still have all that support. Angie texts every single one of us every day so it's a family thing."
The campers in attendance were able to witness that camaraderie firsthand as each player and alum clapped and cheered for the kids they supported. But it also helped to shine a light on the factors that have made the program a success, giving each player a platform.
The camp itself wasn't just a display of stars as several of the instructors served to hammer home the point that it takes more than an elite player to win a title. Hannah Blankenship and Sarah Saunders garnered their share of fanfare and rightfully so. Without them the program doesn't win in 2021. Both were integral role players during their years at East, selflessly doing what was asked of them in supporting roles whether it was rebounding, screening or carrying out other various tasks that aren't included in the box score.
Sherry McKinney, whose daughter Lilly was one of the campers this week, shared a photo of Lilly with Blankenship, stating she waited two years for a photo op with one of her favorite basketball players.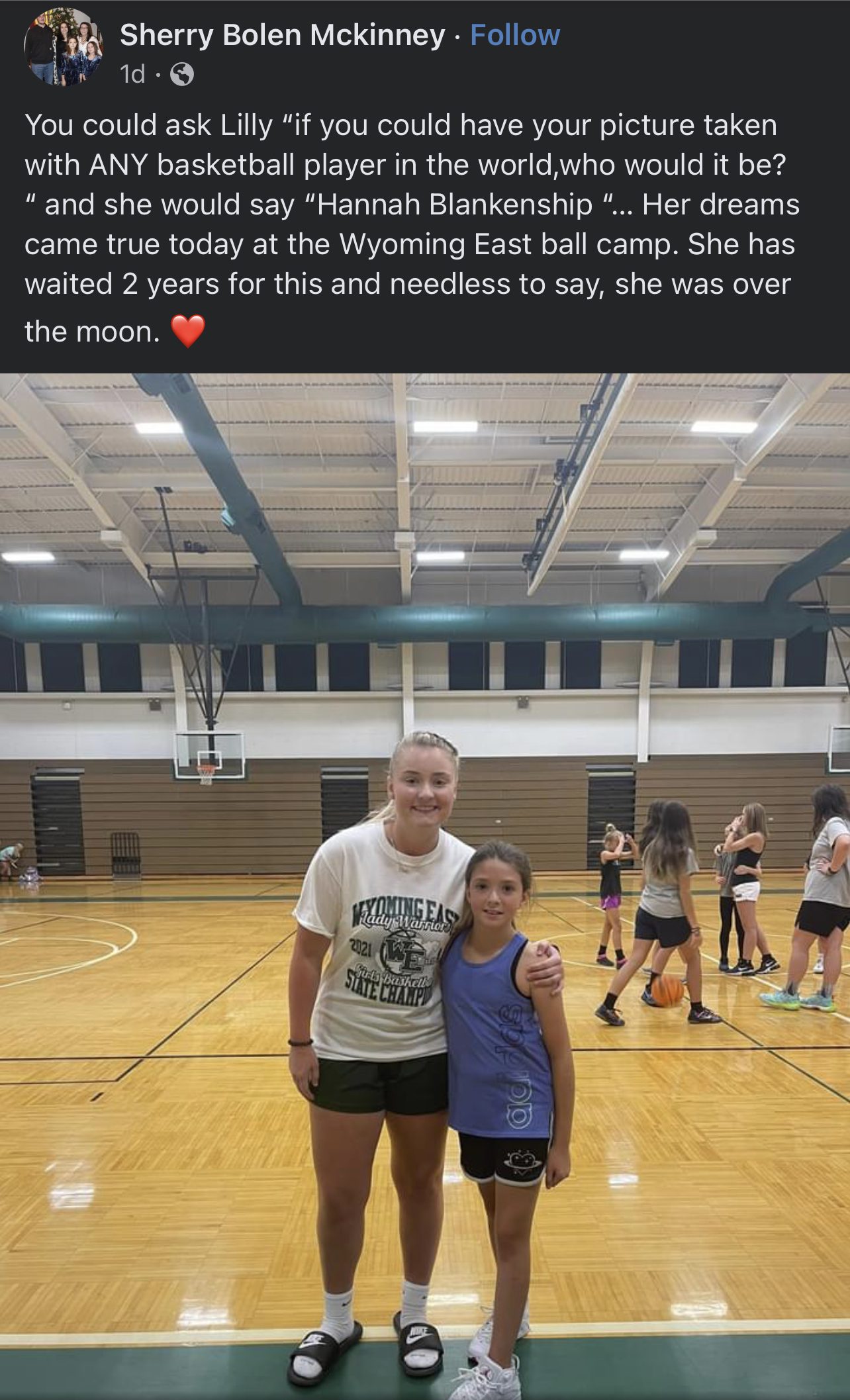 It was affirmation that what you do to contribute to a winning culture matters, regardless of how big or small it may be. Whether it was Blankenship's 11-point, 10-rebound performance in the 2021 state championship game, her eight-point outing against Logan last season or her welcoming nature, somewhere along the way something caught Lilly's attention.
Many schools around the state are still awaiting their first state tournament trip, further proving the difficulty of what East has accomplished over the last seven years. Two years ago the Shady Spring boys basketball program, a now perennial power on the cusp of dynasty status, had made just one state tournament appearance.
It takes a near-perfect alignment of work, dedication, selflessness, aspiration and inspiration to be a perennial player on the state level. It also takes a culture rooted in more than just basketball – one that's passed along and maintained. The next generation had a taste of that this week, ensuring the old guard has done its job.